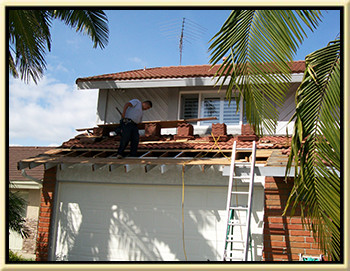 South County Roofing is your local Ladera Ranch roofer for roofing, roof repair and roof tune up estimates in Ladera Ranch, Rancho Santa Margarita, Coto De Caza, Laguna Niguel and Mission Viejo areas.

Ladera Ranch Roofing
Ladera Ranch home owners can call on South County Roofing for any of your roof repair or roof leaks. We are a roof repair only roofing company that specializes in roof leak detection for asphalt composition shingle roofs and all type of tile roofing including: clay tile, slate tile, Spanish tile, and standard concrete tile roofs. We are completely licensed with the CSLB (Contractors State License Board) and insured with a 1million dollar Workers Compensation policy.
All of our workers are our own and we do not ever hire day laborers or sub contract any of our roof repair or roof leak detection services. Everyone you come in contact with our company is dedicated to us an servicing your needs to very best we can.
Broken Roofing Tiles
We can help you replace your broken or slipped roofing tiles on your roof. Tile roofs will need some maintenance done from time to time and it is very important that these roof repair jobs get done properly if you expect them to stand the test of time. We do all roof repairs and roof maintenance job with the intent to make them last as long as possible. We know the average home owner here in Ladera Ranch does not have the budget to repair their roofs every year so we do our very best to make our repairs last as long as they possibly can.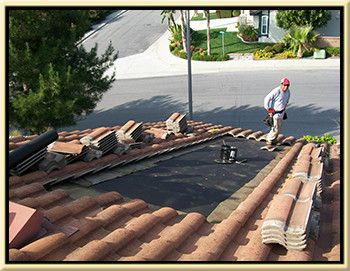 Roof Inspection for Ladera Ranch
When you hire us for a professional roof inspection you get just that. I take roof inspection very seriously. Not only are the roof inspection basics very important such as: sowing up on time and providing a professional inspection report. There are many other aspects that are just as important if not more. I have an attention to detail and I put aside the time necessary to thoroughly inspect every roof I am at. I am there not just to get paid some small fee but I am there to make sure you know everything you need to know about your roof. I know some very important decision can hinge on my roof inspect service and I take this responsibility very seriously.
Orange County Roofing Services for these Cities: Aliso Viejo, Capistrano Beach, Coto De Caza, Dana Point, Dove Canyon, Irvine, Lake Forest, Laguna Beach, Laguna Hills, Laguna Niguel, Laguna Woods, Mission Viejo, Portola Hills, Rancho Santa Margarita, San Clemente, San Juan Capistrano, Trabuco Canyon.